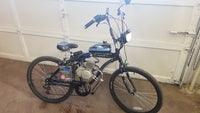 If you can dream it...you can build it.
Building and operating motorized bicycles is one of the most interesting and rewarding hobbies a mechanically inclined person can have.
Learn mechanics from the ground up on the most basic internal combustion engines and then have a fun ride when completed.
Our engine kits will fit just about any adult sized bicycle. Choose your style of bike and build your dream.